Mamie P. [Hubinger] and Edward James Mayo
Mamie's parents were Mary E Frybarge [1852] and Dr John A Hubinger [1839-c1916], both born in Ohio. John served from October 1861 to October 1864 as Bugler for Company E, Second California Cavalry Regiment. Mustered out at San Francisco. He received Civil War Pension [certificate 720684] starting in 1896 in Kansas due to disability, later going to his widow Mary on his death in California.
He was in Springfield OH for the 1870 census married to Margret [1843] and first born Elizabeth. He married Mary in 1873, then in about 1878 moved to St Louis MO where Imogene was born. He final ended up in Pasadena CA prior to 1900. Occupations of this talented family were "Lizzie" H [1868] music teacher, "May" [1875-1969] artist and Imogene S [1880] bookeeper. John went from physician to preacher which may explain why so many older unmarried daughters at home. Mamie was an excellent artist, painting in oils to the delight of her grandchildren.
Mamie also worked in a candy store where she knew the secret recipe for Lincoln Logs. Edward must have liked sweets, they were married in 1902. Edward [1868 - c1918] born in Providence Rhode Island, parents from Connecticut, and died in an accident with run-away horses. Their honeymoon trip was to Death Valley by wagon to scout for lost gold mines. In Pasadena in 1910 working as plumber moving to Bard (Laguna Twp), Imperial County CA about 1914 where the family was for the 1920 census. He shows on the voter registrations for Bard, Imperial County, first Democrat then later Republican where as Mamie was strictly Prohibition. California archive photo of plank road in Imperial County from this time-
Children all born in California-

Mary Louise [1903 Pasadena -1990 Madera CA] married Jesse Frank Martin [1901-1989]
Edward Hubinger [1907 - 1990]
Marvin E. [1914-1998]

Mamie married again about 1925, to Alva Porter Gray [1882-1949] in Bard but he was originally from Texas. His parents were Amanda Francis [Kuykendall] [1864-1942] and George Skelton Gray [1857-1940] married in 1880. Amanda had 13 children, 7 living in 1910. Alva was in Bard in 1918 according to army draft records, and had a daughter, Ulis Gray, living in Oklahoma [from a previous marriage]. Together with Mary S. [1901, another daughter of Alva?], Edward and Marvin, they were living in Saugus, about 5 miles north of San Fernando in 1930. Later they moved to Button Willow in Kern County, where Alva died in 1949. Mamie P. Gray shows on the voter lists for both Bard, and latter Button Willow, but not Alva, appearantly he chose not to vote. By then Marvin had built his own home on Sepulveda Blvd, and Mamie moved into a small apartment at the back. After WWII construction lumber was in short supply and the house was built from actual barnwood shipped in by rail from Nebraska. In later years she lived both with her younger sister "GG" (Imogene) and husband Walter in Pasadena, CA, and her daughter Mary Martin at Bass Lake.

---

Frank Martin was like an older brother to Marvin. He worked at the MGM movie studio, and sent Marvin to highshool in San Fernando CA (class of 1933). When Frank retired he moved to a farm at Fresno CA and died at Bass Lake, Madera County CA. He was a clever and inventive person, like his dad, an engineer according to census. He took particular interest, along with brother Robert in cotton harvest machinery, both at Bard CA and later Fresno.
Born in Stamford, Harlan County NE, son of Dora E. Hathaway [1875 Tioga PA - 1904 Los Angeles] and Harry Edwin Martin [1873 Pontiac IL - 1957 Culver City] married 1896. Dora was daughter of Rhoda Viola Doan [1853 PA] and James Beetle Hathaway [1849 NY]. Children-

Robert Doan [1896 Arleans NE - 1979 Madera CA] married Faye Allred [1900 Arleans NE]
Lucy Viola [1898 Harlan NE - 1920 Venice CA]
Jesse Frank [1901 Harlan NE - 1989 Madera CA] married Mary Louise Mayo
Luther Leroy [1902 Los Angeles - 1980 Madera CA] married Ann Theresa Calahon [1902 Quebec - 1980 Madera]

Luther and Robert were also the names of Harry's younger brothers and Jessie was his sister. Harry was the son of Samuel J. Martin [1844- 1916], living in Oak, Lancaster, NE for the 1880 census. Samuel's wife at the time, Amanda, was too young to be Harry's mom, that is thought to be Elizabeth H. Trotter [1849 - 1877 NE]. Samual was born in Belfast Ireland.
Harry married again in 1906 in Los Angeles to Marcia Vosburg McNees [1874 NE - 1979 Los Angeles] who he probably knew previously from Harlan NE. Children were daughter Olfie [1907 CA] and son Edward Lynn [1913 CA]. This extended family except for Lucy and Luther were living in Bard CA, and were neighbors to the Mayos in 1920.
Frank married Mary L. Mayo in Yuma AZ, 1924, children in 1930 were Mary L. [1925] David F. [1927] and Paul R. [1929]. He was "carpenter" in the motion picture industry for 1930 census, living in Los Angeles.

---
Mary Catherine [Dean] and Marvin E. Mayo
Mary married Marvin in 1940 having met in 1938 when she was visiting Herbert and Lillian Waxham in Van Nuys California. 2 children, Medy Catherine [1944-] and Marjorie Coralee [1950 Los Angeles-]. Marvin graduated from San Fernando HS class of 1933. One of Marvin's first movies was the 1937 MGM adaptation of the Pearl S Buck novel The Good Earth

< VHS cover art, the real movie was black and white.

He had a long career with Universal and eventually retired from Disney Studios. He also owned and ran a neighborhood photo shop on Sepulveda Blvd.
Medy Catherine [Mayo] and Peter Gates Ker [1948-]
Medy married Peter in June 1976, with no children.
Marjorie Coralee [Mayo] and Charles William Funaro II. [1950 - ]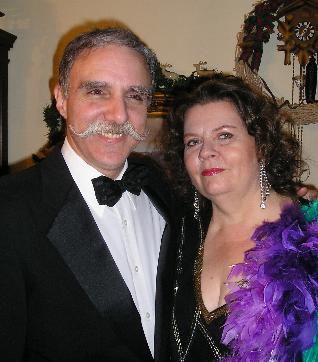 Coralee received a Disney studio employee scholarship in 1968 which enable her to study at USC. She married Chuck in December 1971 and they have 3 children,

Nathan Peter [1977-]
Milissa Rose [1981-]
Caitlin Elizabeth [1990-]

Coralee has a Master Degree in English Literature and instructs at the college level. Chuck has career as lawyer in Pasadena CA.